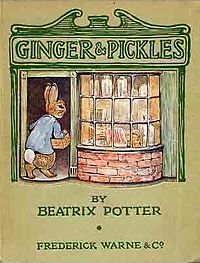 The Tale of Ginger and Pickles (originally, Ginger and Pickles) is a children's book written and illustrated by Beatrix Potter, and first published by Frederick Warne & Co. in 1909. The book tells of two shopkeepers who extend unlimited credit to their customers and, as a result, are forced to go out of business. It was originally published in a large format which permitted Potter the opportunity to lavish great detail on the illustrations and also allowed her to include black-and-white vignettes. Potter filled the tale with characters from her previous books.
PLOT

[

]
Ginger, a yellow tomcat, and Pickles, a terrier, are partners in operating a village shop that offers a variety of goods including red spotty handkerchiefs, "sugar, snuff, and goloshes". Ginger inspires fear in their mouse customers and Pickles their rabbit customers. Ginger's mouth waters as the mice leave the shop with their parcels. The two extend unlimited credit to customers who never pay. The till remains empty. The shopkeepers are forced to eat their own goods.
In the tale's lengthy coda, Tabitha Twitchit, the proprietor of the only other village shop, exploits the situation and raises the prices of everything in her shop. She refuses to give credit. Mr. Dormouse and his daughter Miss Dormouse sell peppermints and candles, but the candles "behave very strangely in warm weather" and Miss Dormouse refuses to accept the return of candle ends from disgruntled customers.Pickles cannot afford a dog license and is frightened of the policeman (a German doll with a stitched-on hat). He is certain he will receive a summons. The two go over their records and think their customers will never pay them. When the policeman delivers the rates and taxes at the New Year, Ginger and Pickles decided to close shop thus creating great inconvenience for the villagers. Ginger grows stout living comfortably in a warren and is shown in one illustration setting traps. Pickles becomes a gamekeeper who is shown pursuing rabbits.
Finally, Sally Henny-penny sends out a printed poster announcing her intention to re-open the shop. The villagers are delighted and overwhelm the shop on its first day. Sally gets flustered counting out change and insists on being paid cash but offers an assortment of bargains to the delight of everybody.
Potter put a crowd of familiar characters from the Peter Rabbit universe into the tale such as Mrs. Tiggy-Winkle, Samuel Whiskers and Peter himself. It would prove a clever marketing device. From the literary angle, the many familiar characters create tension and suspense for the reader as most are the natural prey of the eponymous merchants. The reader wonders if the two shopkeepers will control their predatory instincts long enough to make a sale.