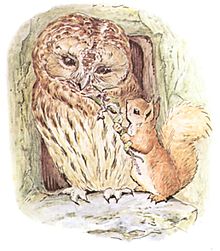 Old Mr. Brown
is an old, bad-tempered tawny owl who lives in a hollow oak tree on Owl Island.
IN THE BOOKS BY BEATRIX POTTER
Edit
Squirrel Nutkin, his brother Twinkleberry, and their many cousins sail to Owl Island on little rafts they have constructed of twigs. They offer resident owl Old Brown a gift and ask his permission to do their nut-collecting on his island. Nutkin however dances about impertinently singing a silly riddle. Old Brown pays no attention to Nutkin, but permits the squirrels to go about their work. Every day for six days, the squirrels offer gifts to Old Brown, and every day as well, Nutkin taunts the owl with another sing-song riddle. Eventually, Nutkin annoys Old Brown once too often. The owl seizes Nutkin and tries to skin him alive. Nutkin escapes, but not without losing most of his tail. After this he becomes furious when he is asked riddles.
FILM AND TELEVISION ADAPTIONS

Edit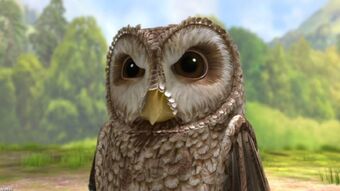 Old Brown appears as one of the villians in the Nick Jr. TV Series as a short-tempered owl who wants nothing but silence. He attacks anyone who dares to make a sound in his vicinity, especially so if they wake up him. He constantly chases after Nutkin for disrupting the peace. His catchphrase is an angry "Tailfeathers!!!"