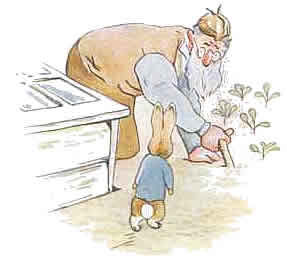 Mr. McGregor is a grouchy Scottish gardener, who is interested in his vegetables, but hates rabbits, because rabbits steal from him. His favorite food is Mrs. McGregor's homemade rabbit pie.
Family: Mrs. McGregor (Wife) , Thomas McGregor (Nephew)
Friends and Allies: His Cat
Enemies: Mr. Rabbit, Peter Rabbit, Lily, Benjamin, Mrs. Rabbit , Mopsy, Flopsy, Cottontail
Favourite Colour: Yellow 
IN THE BOOKS BY BEATRIX POTTER
[
]
In The Tale of Peter Rabbit, Peter's mother has warned her four children about entering McGregor's garden (their father met his end there and was made into a pie by Mrs. McGregor) but Peter does so once his mother leaves on an errand for the bakery. McGregor chases Peter about the garden but Peter escapes after losing his jacket and shoes. McGregor dresses a scarecrow with Peter's clothing.
In The Tale of Benjamin Bunny, Peter returns to McGregor's garden with his cousin Benjamin to retrieve his jacket and shoes. McGregor has a small role in the tale and appears only in the closing pages where he is mystified by tiny footprints in the garden, the disappearance of the scarecrow's clothes, and a cat locked in his greenhouse. In spite of his limited role in the action, the effect that he had in the previous story makes Peter very nervous about staying in the garden for too long, though it is McGregor's cat who almost seals the bunnies' doom.
In The Tale of The Flopsy Bunnies, McGregor has a substantial role in the story. Finding the six sleeping children of the adult Benjamin Bunny, he puts them in a sack and makes plans to sell them for tobacco. His wife, however, wants to skin them and line her cloak with their fur. The two are disappointed in their plans when they discover the bunnies have escaped the sack and have been replaced with old vegetables and a brush.
FILM AND TELEVISION ADAPTIONS
[
]
All the stories that feature Mr. McGregor are shown as episodes of The World of Peter Rabbit and Friends. In "The Tale of The Flopsy Bunnies and Mrs. Tittlemouse", Mr. McGregor's first name is shown to be John.
[

]
More recently, Mr. McGregor has appeared frequently in the Nick Jr. TV Series. In this version, he is the only human character. We hear him talking, but we never see his face. All we see on screen are his arms and legs.
Mr. McGregor also appears in the 2018 film adaptation of Peter Rabbit, portrayed by Sam Neill. He is shown in the beginning of the film, where he dies of a heart attack before he can make Peter into a pie. Soon after, his great nephew, Thomas McGregor (Domhnall Gleeson), inherits his country home. The flashbacks show old McGregor eating unhealthy food because of his wife's death.