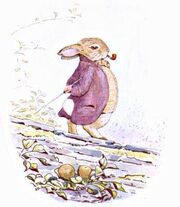 Old Mr. Bouncer Bunny is Benjamin Bunny's father, Peter, Flopsy, Mopsy and Cotton-Tail's uncle and Grandfather of Flopsy Bunnies. He smokes a pipe of rabbit-tobacco and carries a little switch with him. He is very stern and very brave.
IN THE BOOKS BY BEATRIX POTTER
Edit
In this story, his name is "Old Mr. Benjamin Bunny". Peter Rabbit and Benjamin Bunny both end up being trapped by Mr. McGregor's cat under a basket for five hours. Old Mr. Bunny ends up rescuing them by locking the cat in the greehouse. He then whips both Peter and Benjamin for their naughtiness and brings them both home.
When Tommy Brock steals the Flopsy Bunnies, Flopsy is really mad with Mr. Bouncer, and Mr. Bouncer is very sorry. He is forgiven in the end when Peter and Benjamin save the children.
FILM AND TV ADAPTATIONS
Edit
All the stories that feature Mr. Bouncer are shown as episodes of The World of Peter Rabbit and Friends.
More recently, Mr. Bouncer has appeared frequently in the Nick Jr. TV Series. In this version, he is a talented inventor, and is very cheerful.